How to be Kept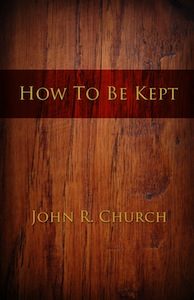 Author: John R. Church
In this wonderful book, Dr. Church reminds the reader that we are saved by grace, sanctified by grace, kept by grace and kept daily by His grace. Read and be inspired that the grace of God is full and free.
DOWNLOAD FOR IPAD, NOOK, SONY, ETC – EPUB VERSION
**NOTE TO SAFARI BROWSER USERS. If you are having issues with clicking and downloading. Please right click on the button above and select "Download Linked File", the book will then appear in whatever folder you save your browser downloads to.
If you do not have an e-reader device you can download the Kindle application (FREE) for your computer and read the book directly on your computer. Below is a link to the website where you can down load the application for your computer. This will work for any Kindle book.
KINDLE & KINDLE FIRE HELP
KINDLE APPLICATION DOWNLOAD