Bike Path Holiness: 31 Tips for Your Journey

Author: Jerry Brecheisen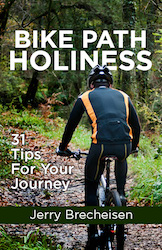 This great book offers 31 tips (road signs) for your spiritual journey. They will be as refreshing and practical as a sip from a bottle of water. Today's travel has some dangerous twists and turns; but God has provided a designated lane for the Christ-filled life. The way isn't drab. It's filled with his "presence" and "joy" as we go along. So let's put on our "helmet of salvation" and get ready for an awesome journey.
DOWNLOAD FOR IPAD, NOOK, SONY, ETC – EPUB VERSION
**NOTE TO SAFARI BROWSER USERS. If you are having issues with clicking and downloading. Please right click on the button above and select "Download Linked File", the book will then appear in whatever folder you save your browser downloads to.
If you do not have an e-reader device you can download the Kindle application (FREE) for your computer and read the book directly on your computer. Below is a link to the website where you can down load the application for your computer. This will work for any Kindle book.
KINDLE & KINDLE FIRE HELP
KINDLE APPLICATION DOWNLOAD