Loving God | Author Dr. Louie Bustle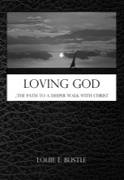 In brief chapters of this book, you will find a wealth of experience in paragraphs and principles that address one of the most important issues facing the church in a post-Christian culture: Living a life of holiness. Dr. Bustle has mined the depths of God's Word for truths that will never be out of place—no matter what the values of the culture may be. God's requirements for living a holy life are unchanging. Written from stories and Bible studies that are dear to his heart, will endear your heart as well.
DOWNLOAD FOR IPAD, NOOK, SONY, ETC – EPUB VERSION
**NOTE TO SAFARI BROWSER USERS. If you are having issues with clicking and downloading. Please right click on the button above and select "Download Linked File", the book will then appear in whatever folder you save your browser downloads to.
If you do not have an e-reader device you can download the Kindle application (FREE) for your computer and read the book directly on your computer. Below is a link to the website where you can down load the application for your computer. This will work for any Kindle book.
KINDLE & KINDLE FIRE HELP
KINDLE APPLICATION DOWNLOAD