Holiness: Our Doctrinal Legacy  | J.C. Crabtree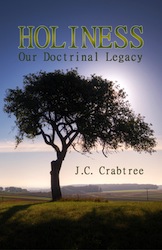 JC Crabtree was a masterful speaker and a sermonizer of the Scriptures. This book reflects the heart of a preacher who knew what it was like to experience God in revival settings. Holiness: Our Doctrinal Legacy is a collection of 5 powerful sermons on holiness.
DOWNLOAD FOR IPAD, NOOK, SONY, ETC – EPUB VERSION
---
**NOTE TO SAFARI BROWSER USERS. If you are having issues with clicking and downloading. Please right-click on the button above and select "Download Linked File", the book will then appear in whatever folder you save your browser downloads.
If you do not have an e-reader device you can download the Kindle application (FREE) for your computer and read the book directly on your computer. Below is a link to the website where you can download the application for your computer. This will work for any Kindle book.
KINDLE & KINDLE FIRE HELP
KINDLE APPLICATION DOWNLOAD