The All Sufficiency of Christ | John R. Church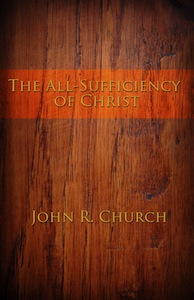 This powerful but small book describes the suffering of Christ to provide a glorious redemption on Calvary's cross. Dr. Church takes the reader on the journey with Christ to Golgotha's hill. His eloquence and descriptive words will stir the soul.
Sponsored by:
Published with permission of Indian Springs Holiness Camp Meeting, Flovilla, GA
www.indianspringscampmeeting.org
DOWNLOAD FOR IPAD, NOOK, SONY, ETC – EPUB VERSION
**NOTE TO SAFARI BROWSER USERS. If you are having issues with clicking and downloading. Please right click on the button above and select "Download Linked File", the book will then appear in whatever folder you save your browser downloads to.
If you do not have an e-reader device you can download the Kindle application (FREE) for your computer and read the book directly on your computer. Below is a link to the website where you can down load the application for your computer. This will work for any Kindle book.
KINDLE & KINDLE FIRE HELP