When Saints Disagree | John R. Church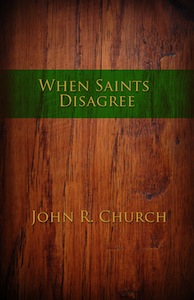 Conflict is not new to the church. Just read the book of Nehemiah and you will discover that its as old as the Bible. In this book, the reader will discover that a conduct of Christian civility should be the norm in the local church. All believers who are sanctified should seek to be in a right relationship with Christ as well as with one another.
Sponsored by:
Published with permission of Indian Springs Holiness Camp Meeting, Flovilla, GA
www.indianspringscampmeeting.org
DOWNLOAD FOR IPAD, NOOK, SONY, ETC – EPUB VERSION
---
**NOTE TO SAFARI BROWSER USERS. If you are having issues with clicking and downloading. Please right-click on the button above and select "Download Linked File", the book will then appear in whatever folder you save your browser downloads.
If you do not have an e-reader device you can download the Kindle application (FREE) for your computer and read the book directly on your computer. Below is a link to the website where you can download the application for your computer. This will work for any Kindle book.
KINDLE & KINDLE FIRE HELP
KINDLE APPLICATION DOWNLOAD