Big Picture People | Doug Carter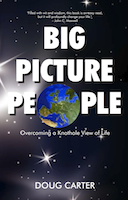 Doug Carter delivers a visionary message for all Christian leaders in this book.  The reader will be encouraged to go for the mountain instead of living on the misty flats! A must read for any leader who wants to cast a vision.
**NOTE TO SAFARI BROWSER USERS. If you are having issues with clicking and downloading. Please right-click on the button above and select "Download Linked File", the book will then appear in whatever folder you save your browser downloads.
If you do not have an e-reader device you can download the Kindle application (FREE) for your computer and read the book directly on your computer. Below is a link to the website where you can download the application for your computer. This will work for any Kindle book.
KINDLE & KINDLE FIRE HELP
KINDLE APPLICATION DOWNLOAD